About Us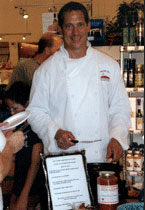 Local Wayne Resident creates Gourmet Tasting Menu Catering Company
Marc Rosenkrantz, a Wayne resident all his life, has always been known by his friends and family as a really good chef.  Marc has taken his love of food and created a business that brings gourmet dining to your doorstep with a private tasting menu party for groups from 12 to  36 people .
The concept of tasting menus, or "little plates" is becoming popular.  It is a great way to try a lot of different foods.  Marc came up with this concept after years of tailgating in Giant Stadium.  He and his tailgating crew would set up in the parking lot six to eight hours before the game and cook a variety of gourmet (yes, gourmet!) foods on a half barrel grill.    The dishes range from General Tsao 's Meatballs, to Shrimp Scampi , to Tilapia Francaise  to Cinnamon French toast and more!  The best part is you can have a little bit of everything and walk away full but not overstuffed.
The company, Pan and Grill Catering, comes to your home and provides you and your guests the finest dining experience with a variety of gourmet dishes.  You can entertain your guests without worrying about the food preparation and just sit back, eat and enjoy!  And the best part is – all the cooking is done outside on a grill that Marc brings himself so there is no clean-up left in the kitchen when your guests leave!  You will be amazed at what he can cook on a grill.